Message from Jack Simms:
Alexander County Republican Party

Thank you for visiting the Alexander County Republican Party webpage. We're glad you stopped by. We are a conservative-minded people who are dedicated, motivated, and determined to help our candidates win elections at local, state, and national levels of government, but we are so much more than that; we are a family.
I invite you to join us for our monthly meeting which occurs on the second Tuesday of each month at 7:00 pm at the Alexander County Republican Party Headquarters. The Headquarters is located directly across from the East side of the Alexander County Courthouse at 9 South Center Street, Taylorsville, NC 28681.

We are very proud of our Headquarters, as we are one of a very few county parties in North Carolina that owns its own Headquarters.
Please join us at our monthly meetings and visit our website for information regarding upcoming events. Should you have any questions, please don't hesitate to contact any member of the Executive Committee or myself.
Thank you again for visiting our webpage. We look forward to getting to know you and welcoming you into our family.
Jack Simms, Chairman
Alexander County Republican Party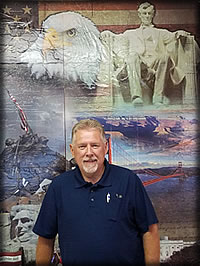 Jack H. Simms, Chairman
Alexander County Republican Party
828-312-2575