~ Upcoming Class ~
Maximum class size of 11 people

November 13, 2021
10:00 AM - 2:00 PM
(Register now!)


Barn Quilt Workshop
Instructor Carol Mitchell
Please come and join our Painted Barn Quilt Workshop Class with instructor, Carol Mitchell. The class will be held from 10:00 AM to 2:00 PM at the Center's Educational Complex (70 Hiddenite Church Road in Alexander County). In this "make and take" class, instructor Carol Mitchell will lead students in creating their own 2' x 2' painted Barn Quilt.

Cost for this beginner's level workshop with all materials provided by the instructor is $45 for Center members and $50 for non- members. Advance payment is required. Participants should bring a bag lunch to enjoy while the paint dries. Registration is open for this class. To register, call the Hiddenite Arts & Heritage Center at 828-632-6966.


Carol Mitchell and her husband Steve are owners & operators of Mountainside Farms in Alexander County. Her popular Barn Quilt projects are an extension of her lifelong involvement in agriculture.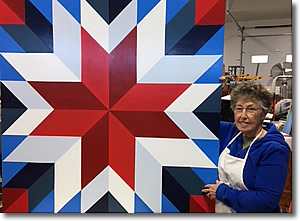 I offer classes to different groups in Alexander and surrounding counties. Gather a group of at least 10 friends and we will schedule your own "Painting Party"!

Classes are usually available at the Hiddenite Center on a monthly basis. Just call the Hiddenite Center at 828-632-6966 to learn about my upcoming classes.

For more information about ordering Barn Quilt Squares or upcoming classes, please email, text or call at 828-612-6077.

We at Mountainside Farms are happy to serve you!


I will be happy to send you a brochure by mail, or click here to view a brochure.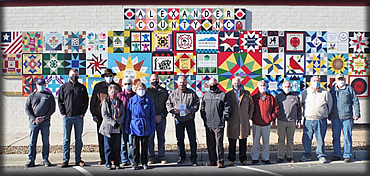 A dedication ceremony was held on December 8 for the new Community Barn Quilt Project which has been installed on the eastern wall of the Alexander County Services Center in downtown Taylorsville. A work in progress, project coordinators believe this display will attract more visitors to the county and town as barn quilt enthusiasts become aware of the new installation. Read More>>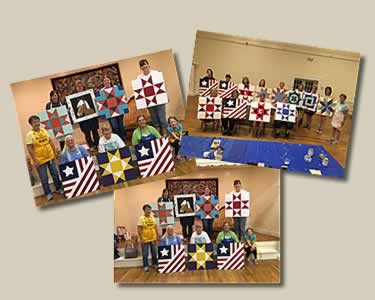 Visit Our Booth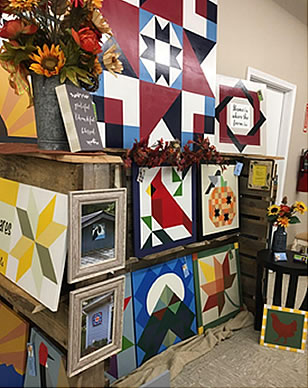 Our booth is located at
Little Stitches Embroidery & Printing
196 Westgate Drive,
Taylorsville, NC 28681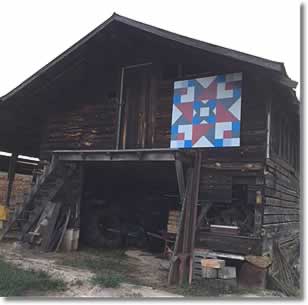 Barn Quilt Squares are a welcome sign to any barn, garage, outbuilding or front porch. I paint 2' x 2' and 4' x 4' squares by order. These can be delivered or picked up at our farm.

Our boards are primed and painted both on the back and front. A sealer is applied to the front side of the board when the painting is finished.

I can create a customized Barn Quilt Square from a photo if you are interested in a certain design or theme.

Sizes Available

2' X 2'
4' X 4'
Others by Request

Patterns Available

Ohio Star
American Flag
Compass Star
Interlocking
Barn Flowers
Carpenter's Star
Custom Designs


Prices Start at $40 with
Your Choice of Colors

The History of
Barn Quilt Squares

Barn Quilt Squares were started in Ohio by a lady who wanted to honor her mother with a quilt square on her barn; so the first Barn Quilt Trail was started in 2001 with the design of the Ohio star. This is the design that I offer in my classes for each to start painting. There are 43 states that have Barn Quilt Trails.

Contact Me
Carol Mitchell
4062 Church Road
Taylorsville, NC 28681
Phone: 828-612-6077
Email: carolstevem@gmail.com