Alexander County Crime Stoppers is a 100% volunteer organization. There are no paid members, officers, or administrative fees. 100% of the funds we raise go to assist local law enforcement, and 100% of our funds come from donations and from fund-raising events held periodically by members of the board of directors.

Citizens of Alexander County and surrounding areas should feel comfortable calling in tips to Crime Stoppers. Calls are completely anonymous. You never have to give your name or reveal your identity. When you call in a tip, you are assigned a random number. If your information proves to be beneficial to law enforcement in solving a crime and/or making an arrest, the Crime Stoppers board of directors will approve an award and the caller will be paid anonymously. We do not require a conviction to approve an award.


We meet once each month with representatives from the Sheriff's office and Police department to discuss any unsolved crimes that may benefit from tips from the public. We can post a set amount to entice members of the public to come forward with information about crimes they have witnessed, heard about, or have information on. When beneficial tips are received, law enforcement officers recommend a dollar amount to be paid to the informant for their information based on the severity of the crime and the usefulness of the information received. The board then votes on their recommendation. During the last 5 years, we have paid approximately $8,000.00 for information on numerous crimes in our community.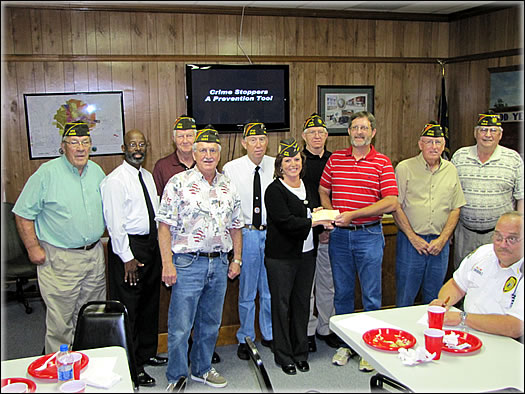 VFW Donates to Crime Stoppers
Article & Photo courtesy of Micah Henry, The Taylorsville Times
Veterans of Foreign Wars Post 5466 of Taylorsville presented a $500 donation to Alexander County Crime Stoppers on May 20, 2010. Pictured above left to right: front row – VFW Post 5466 member Elbert Harrington, Commander Ginger Annas, Crime Stoppers President Billy Sprinkle, and VFW members Bennie Bebber and Leroy Lackey; second row – VFW members Wade Childers, Omar Hassan, John Deal, Herb Poole, and Danny Sparks. Seated: Officer Gribble with Alexander Correctional Institution.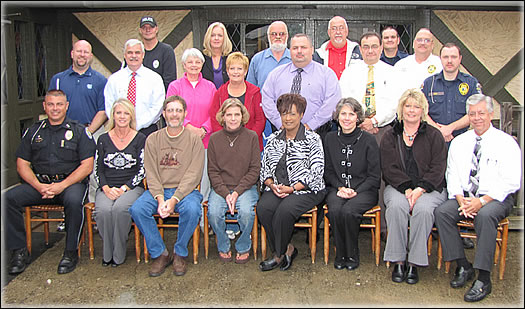 Alexander Crime Stoppers 2009-2010 Board Members Named
Article & Photo courtesy of Micah Henry, The Taylorsville Times
The Alexander County Crime Stoppers met Thursday, Oct. 15, 2009 at Village Inn Pizza in Taylorsville. The group's 2009-10 officers and board members who were present for that meeting are pictured above:
left to right: front row – Lt.Douglas Bowman, Judy Feimster, Secretary; Billy Sprinkle, Vice-President; Karen McClure, President; Sue Watts, Treasurer; Debbie Icenhour, Member-at-Large; Denise Elder, Sheriff Chris Bowman;
middle row – Wesley Sharpe, Dennis Smart, Carole Rogers, Tamara Arndt, Chief Deputy Tod Jones, Tim Keever, and Michael Key;
back row – Capt. Dennis James, Rita Pennell, Frank Patterson, Doug Livingston, Brian Taylor, and Lt. James Gribble.
Crime Stoppers of Alexander County has not only assisted the Alexander County Sheriff's Office and the Taylorsville Police Department in solving crimes, we have helped to purchase and maintain the Sheriff's office patrol boat used on Lake Hickory, and CHIP, the motorized patrol car, for our school children to learn about our officers and law-enforcement. Crime Stoppers has donated stop sticks, an in car camera (in memory of Rick Fox), and tasers to the Alexander County Sheriff's Office and to the Taylorsville Police Department. We are always trying to help these agencies in acquiring the much needed equipment to keep our county safe.