Gateway International Missions is located in the foothills of North Carolina, while our primary ministry is in 14 African countries on the Continent of Africa.
Our three main areas of ministry include:
prisons,
schools and
churches.
Our other important areas of ministry include:
medical and eye clinics
and mission trips.
Mission Statement
Believing that it is both the privilege and responsibility of each individual believer and local church to share the Good News of salvation through Jesus Christ with the entire world, we endeavor to make disciples in every nation wherever God may lead. Our priority shall always be the proclamation of salvation by grace as the only answer to life's greatest need – a spiritual transformation of the heart. Furthermore, we pledge to always maintain a genuine burden for meeting the physical, mental, and emotional needs of those God entrusts to us through a balanced approach of educational training, medical assistance, and the provision of humanitarian aid.
We invite you to become involved!
The fields are ripe unto harvest, but the laborers are so very few. We are praying to the Lord of the harvest for workers to be sent out into His fields. We would love to speak with you about how you might be involved in the ministry of Gateway International Missions, Inc.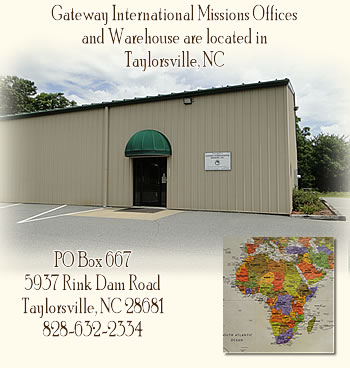 Gateway International Missions, Inc.
PO Box 667
Taylorsville NC 28681
Visit Our Website for photos & info
www.gatewayinternationalmissions.com
Email the Office:
office@gatewayinternationalmissions.com
Email Dr. Stan Frye:
gimi@charter.net
Phone:
828-632-2344